Axel Cruysberghs interview from Free issue 1

Portrait by Vincent Coupeau. Interview by Bram De Cleen.
The main interview of Free's first big issue goes to Belgium's Axel Cruysberghs.
I assume he came out on top because he had a bunch of impressive recent photos available to choose from, which is always a good starting point for a magazine feature.
On top of that he is European, young and very focused on the act of skateboarding, which isn't too different from this magazine in particular.
When I got Axel on Skype to do this interview it was the evening in Belgium and the morning in Long Beach, California, where he had just got out of the shower, looking fresh and ready to go skate.
–Bram De Cleen

Front blunt. Photo: DVL
Hey Axel, what are you in Long Beach for?
We're trying to film stuff for a new Volcom video.
They're already working on something new after True To This?
Yes. I don't know the name yet.
You've been on Volcom for a long time, and Etnies as well, but you never had a really solid board sponsor until now, right?
No, not really, they were solid brands, but I was always on the European program.
What brands have you skated for so far?
I used to get boards from Flip when I was really young.
Right, that lasted for quite a while, right?
Yes, it did. I was really young, though, and I couldn't really make it over to the US very often back then, so nothing ever really came from it. After that Alien Workshop sent me stuff for some time. European deal as well.
Like Eniz?
Yes, I think so.

Feeble. Photo: Jelle Keppens
You skated Antiz boards for a short period, too, and even had some tricks in their video (XV years). Why did that end?
I really liked Antiz a lot, and still do, but I wanted to try to get on something bigger and more serious I think.
That's an honest answer…
If I had stayed there that would've been it I guess, and I would have never really known what else could have happened.
It seems to be working out; you're getting boards from Toy Machine. What's the deal over there? Are you officially on the team?
Not really, I'm going on a tour with them soon, to see how it all works out.

Crook pop over. Photo: DVL.
That seems like a good start. I heard that Ed Templeton picked you out personally after seeing you skate. Is that how it happened?
I'm not sure. I got an e-mail from the team manager saying that they were down to send me boards.
Was that after you won the Volcom Damn Am contest?
No, actually it was before that.
You've always done very well in contests in Belgium and Europe, but California is on another level concerning skatepark contests, right?
Yeah, definitely.
Were you extra proud to win that contest, because of that reason?
Yes, I guess it felt a little bit more special.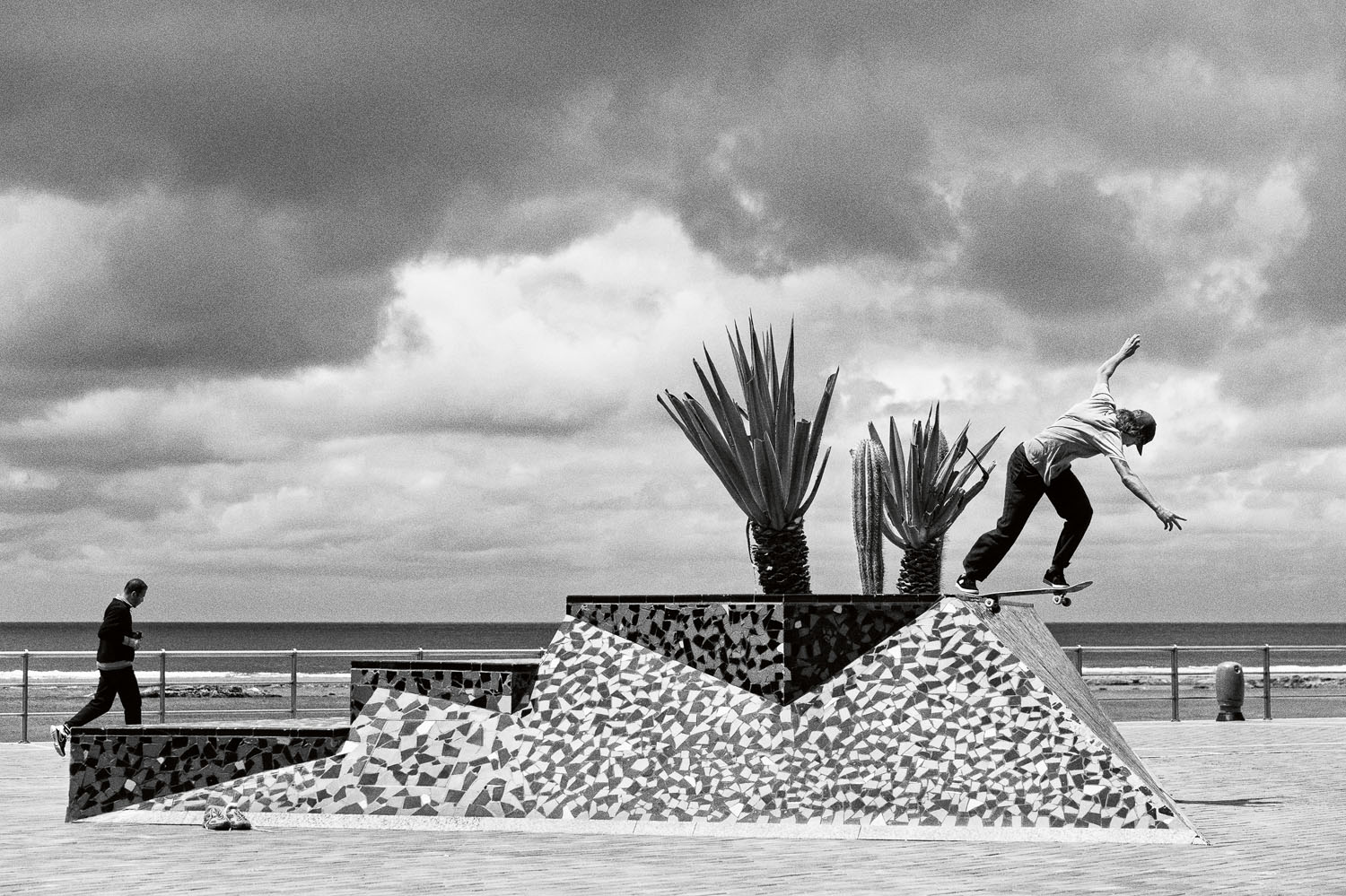 Backside tailslide revert. Photo: DVL.
Is it like I imagine it to be, with really impressive skaters trying and doing the hardest stuff, really going for the win and practicing their runs, etc.?
Haha, yes it is; it is pretty intense. During the qualifiers I skated outside more than in the park. I just went in for my run and got back out. The park is at the Volcom headquarters, so there's a little flatrail and some other stuff right outside.
You had a pretty severe injury in America a little while ago, can you tell that story…
I was on a Volcom trip in the States. One morning I woke up really sick. After three days of not being able to drink and eat and puking all the time I was so dehydrated that I couldn't move anymore. An ambulance picked me up in the hotel. When I got to the hospital they told me I needed an operation that night because my appendix had burst. A couple days after the surgery I was still getting sicker and sicker and then they found out that the cut from the surgery got all infected so they had to take scissors and cut my stomach open without anesthesia. After a week in hospital I flew home and needed a second surgery. Two months after I was back on the board.
Intense! You used to be the little skatepark kid but you've been skating a lot of street the last couple of years as well, and you came out with a really solid Etnies video part recently. I really liked it but I guess in this Internet day and age parts like this don't really have the impact they might have had say ten years ago, do you agree?
Yes.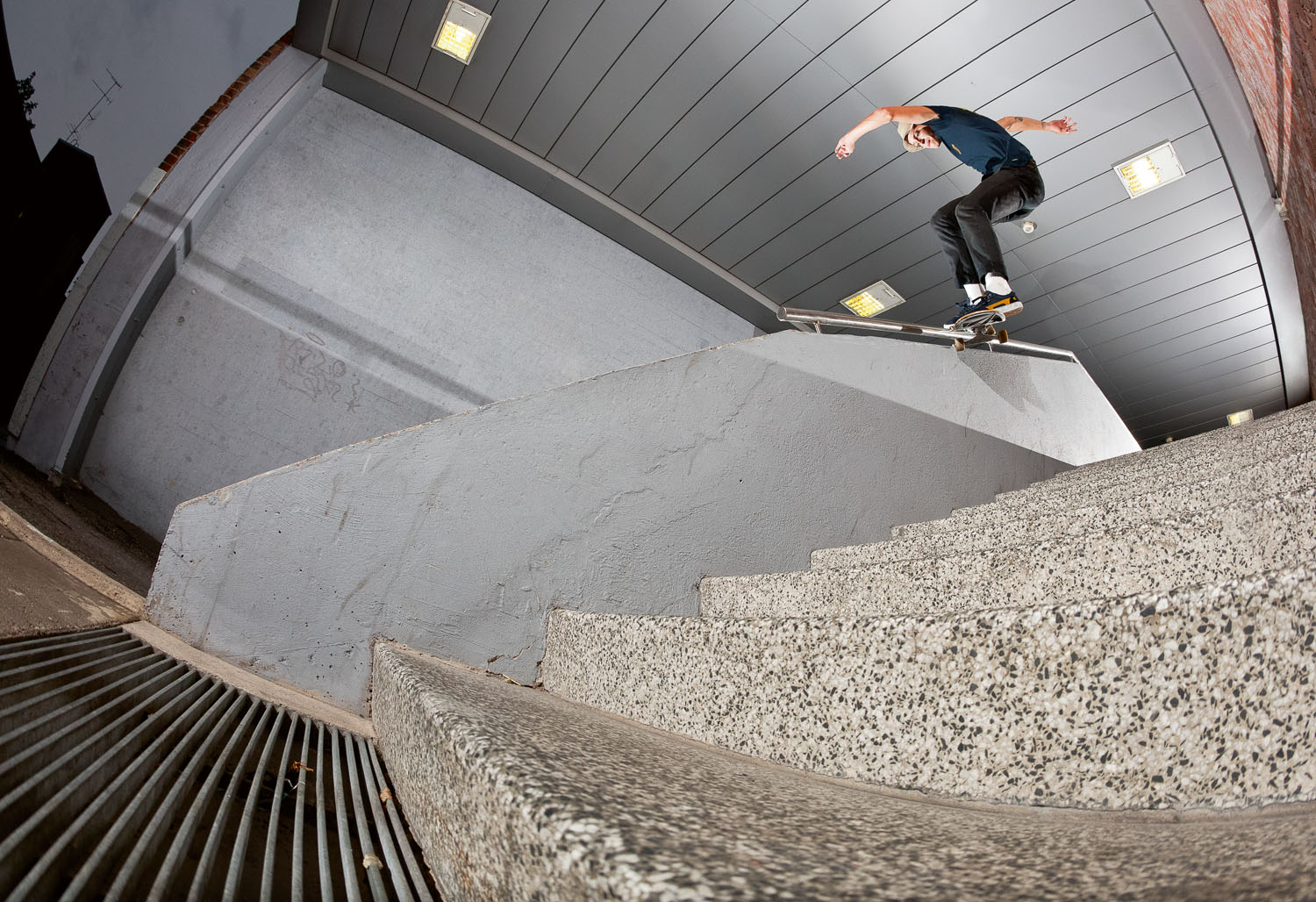 Smith pop out. photo: Sam Clark.
This last year the two videos that got the amount of attention and replays that almost all videos used to get were maybe Supreme's cherry and Vans' Propeller. Is that something a younger skater like you still desires? Having a full part, to a special song in an anticipated video?
Yes, definitely. Etnies' A, B & A was filmed in about a year. I would love to spend a longer time on one project, and choose specific spots for tricks, and have the time to really make something complete.
If you could go back in time and have a video part in Propeller or cherry or any other video from the past, disregarding sponsors, which one would it be?
Hmm. I would've had a part in the Vans video then.
Why that one?
I look up to a lot of the guys that were in that video and really looked forward to seeing it when it came out. I pre-ordered it on iTunes, I woke up from the notification e-mail from iTunes that my download was ready and jumped out of bed and got really excited about it.
I guess that is a modern day version of going to the skate shop to get the new video – or actually, the modern day version of downloading it for free. Tell us about meeting Lucas Fiederling… How did that happen?
I met Lucas on a Volcom trip to Malaga. He was the filmer on that trip.

50-50. Photo: Sam Clark.
So at what point was it decided you'd have a part in Where We Come From? Are you hyped on your footage?
So I went on couple trips with Lucas and the other guys in the video. In Bangkok I filmed quiet a bit so we decided that I could maybe try to film a part for the video. I'm stoked on the stuff I filmed. I'm happy with the stuff I got. I wish I could have filmed a bit more but yeah it's all right.
Have you had a choice in the song you skate to? 
Yeah I did. It's hard to find a song you like and can use for the video. Luckily Davy Van Laere knows a lot of music. He helped me out with that.
So do you think your part in WWCF will be that big part you always wanted?
It's cool that this part is in a 'real' video with a premiere and everything. I'm stoked and I hope people like it.
What's next for you Axel? What have you got planned for the rest of 2015? 
I'm filming for Volcom. I have a Toy Machine trip next month and just skating and travelling really.
Cool, anyone you want to thank?
Thanks to all my sponsors, my family, Liesa and my friends.