Igor Fardin interview from issue 7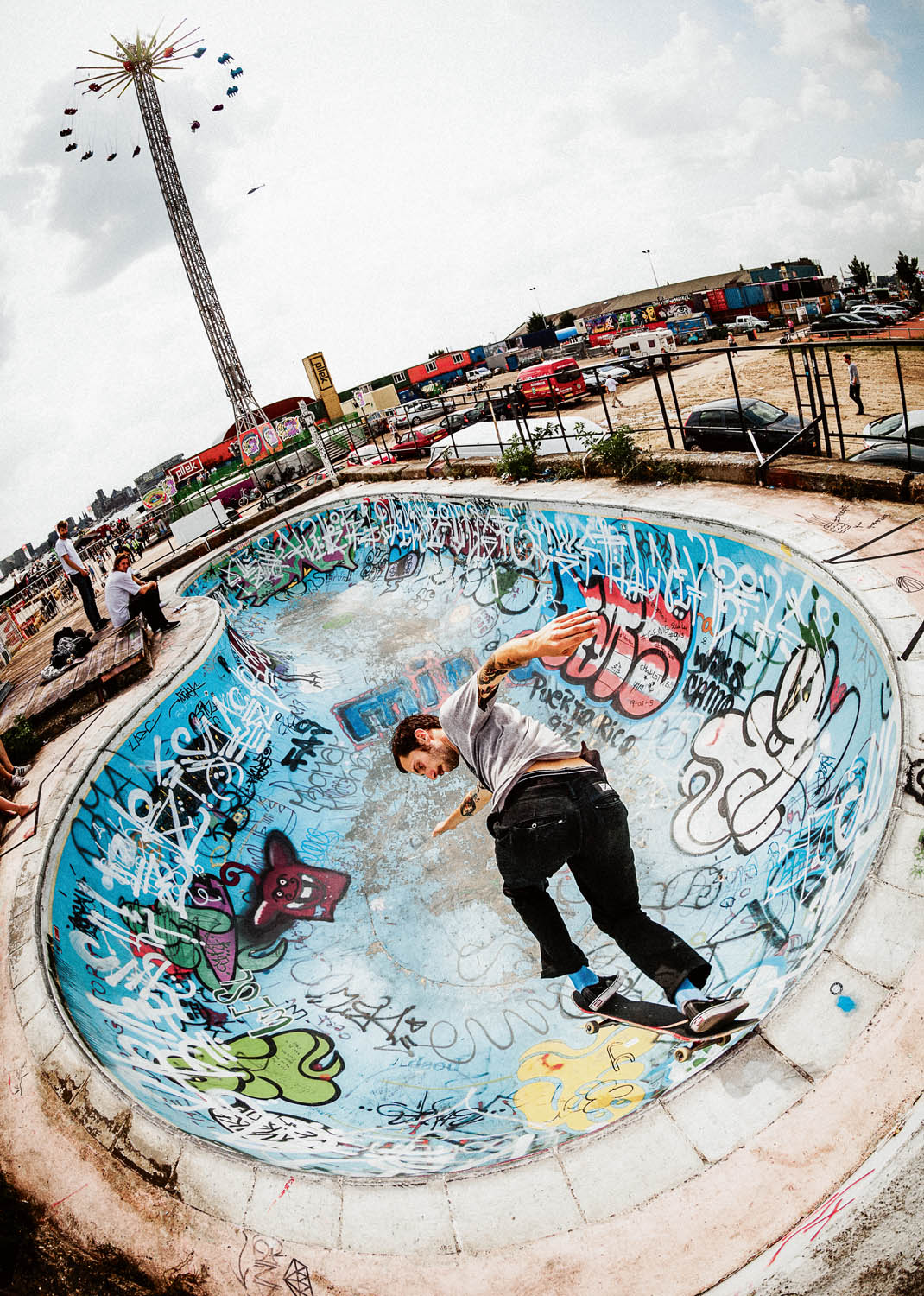 Backside tailslide shot by Guillaume Périmony. Interview by Alan Maag.
What to write about Igor that I haven't mentioned before? We've been shooting together for six or seven years now and have produced several interviews and checkouts as well as going on tour together. So, at first I was a bit reluctant to write something at all and asked people around if they had a specific question they would ask Igor. The moment I had read Igor's answers to those various questions it became quite clear that he had grown a bit more and I remembered a moment we had a few weeks ago which really touched me.
We were on the road somewhere near Lugano, in a conversation… We talked about goals in life and why they are important. He had a bit of a down day, and it was the first time I ever heard him say that it was sad that skateboarding had no importance to him at the moment. But then he was like: 'but you know, you're like an older brother to me, and whenever I don't know what to do I just think to myself "what would Alan do?"' It was such a compliment that I didn't know what to say and I just kept talking about goals in general. Nobody had ever said such a thing to me and in hindsight I should have at least said thanks.
Now that I'm reading the answers he's giving I realise that to me it's actually the other way around. Despite his young age, Igor is a role model to me. His persistency and discipline are something I can only look up to and I wish I had a bit more of that. I admire his modesty and thoughtfulness and it should be me who should ask myself what Igor would do when I have a down day. So Igor, here we go, my turn to show you some respect and let you know that you are a great guy. Let's have the wisdom to let go and the patience to wait for what we deserve.
I asked around a bit if anyone had a specific question to ask you. I guess it must have been your appreciation of fine tea, which made me ask Stu Smith if he'd want to know something…
Igor Fardin: Yeah, we share that tea love. It was actually him and the Lovenskate guys who got me into the routine when we had that trip on the Isle of Man some years back. Starting your day with a cup of tea is a ritual and makes it easy. What did he want to know?
He's wondering: since you've been focusing the last few years on your studies, but with a serious amount of skateboarding under you belt, which do you consider more important in life: an education at college or an education by skateboarding?
I guess a college education helped me understand a little better how this world works and why certain things work in a certain way; plus it's kind of more appreciated in the job market, right? On the other hand skateboarding has been very important in many ways for me. First of all I guess it is the main reason why I can answer this interview in English, plus it taught me how to travel, it showed me parts of cities and their life that I would have never gotten to know otherwise and it gave me the chance to experience stuff in my own skin. I've been to Mongolia… How crazy is that? Add to that all the people I've met through skateboarding; people that can share an experience with you, or teach you something, even if you just stay in your own town. It is easy to understand how much skateboarding can teach you if you are willing to learn. So in the end I don't know which is more important, sometimes I chose to prioritise school over skateboarding, sometimes the other way around. In the end I am just very grateful I had the chance to receive this dual education.
No comply. Photo: Alan Maag.
School has been a major part of your recent years and as Stu pointed out you managed to get both, all this travelling and studies under one hat – so no wonder you've always been carrying around books…. Our friend Andres asks: Everybody who knows you a bit has seen you reading a book… You now have a bachelor's degree in history (magna cum laude) and you are going for your masters in Paris. Assuming the fact that not all skaters read, do you think there exists a relationship between reading and skating? And how do you live those long days before your exams when you are locked up in your house on the mountain with no skating?
I don't really think there is a connection between books and skateboarding, but that is what I really like about it. I don't think you can live well while only doing one thing all your life. Although I am still a little excitable kid when it comes to skating, I feel that now that I am more of a grown man skateboarding doesn't answer all my needs. Sometimes a good day of skating is all I need to feel great, other times I need other experiences. And reading is good for that because it allows you to just be somewhere else for a while, and experience ideas, places and times much different from your own. It might be a cheesy thought, but I really believe that when you open a book you get the chance to go out of that little young man who skates and lives in Switzerland and live in another person's life and time. If you are reading a history book or a novel or even a good comic book, you get the chance to confront your ideas with much greater minds. There is an Italian writer called Umberto Eco who said something like if you are 70 and you haven't read you just lived your own life, if you are 70 and you have read you can have lived a thousand different lives. I believe that's true.
And regarding the days before the exams at home they are crazy, stressful and being alone and not being able to skate is not really a good combination of things. After awhile you get some kind of 'all work and no play makes Jack a dull boy' feeling, but I guess that is something every student can relate to.
So you'll live in Paris soon. How come?
Loads of reasons, first I'm having some issues with my personal life so I kind of want something that feels like a fresh start. Then I have this chance to live in Paris without having to pay real rent… Paris offers an interesting Masters in history, so I am applying for one of them, even though maybe I should train up my French first… I hope I can get a job there so I can stay either way. And of course skating in Paris is pretty good and I've had the fortune to meet many nice people from there.
Yeah, you seem to have a French connection… You've been filming with Guillaume Perimony and shooting with Vins Coupeau. Where do you know them from?
They were on this trip through Switzerland with the Niaks Crew and passed by Lugano. I showed them around and we stayed in contact. I guess that's how I kind of slipped on Savate too – some months later there were some socks in my mailbox.
Backside flip shot by Alan Maag.
Vins wants to ask if you wouldn't have discovered the world of skateboarding, what do you think you would be doing nowadays?
That's a really hard question. The more time passes, the harder it is to answer this question, but I guess I'd just be doing more or less the same thing as I am doing now and probably have a huge amount of time that I wouldn't know what to do with. I certainly would have travelled way less 'cause skateboarding in the end is a really good excuse to spend a weekend somewhere completely random, meet new people and learn things and all that. There are some things I certainly would have never experienced without skateboarding.
You're one of the few lucky guys who have been involved in projects Carhartt is supporting. How was Mongolia?
Spending a few days with a nomad family and watching them kill a sheep and divide the different parts of meat is for sure something I won't see again any time soon. Spending a night on the sand near the Gobi desert was also pretty unique. But maybe what will stick in my mind for the longest are the stops we would make on the long and bumpy bus rides from one city to the other. You would go out of the bus look around and you just see hills and some horses and almost no trace of any human activity – that was amazing.
But to answer Vins' question, maybe I would have focused more on other things, like playing an instrument better or something. I guess that the obsession that drives you as a skater, to be so passionate about what you do and to try so hard to get things and fail so many times must come from within. We have to face it: skateboarding is not easy or at least it's not to us untalented fellows. It's something strong within your personality that keeps us doing those moves over and over again before we succeed. If this thing doesn't get out on a skateboard, then it will show in some other field. In my case maybe music, but I really don't know…
I know you're learning to play an accordion so that makes sense, but recently I also noticed your wallet. It has a real vintage look to it; you made it yourself, right?
Leather is cool and I am pretty proud of the fact that I made it myself. My dad used to work with leather, making wallets, belts, bags and all kind of stuff. So since I had the chance and it's such a charming experience I just had to do something myself.
Making things that last and that have a certain sustainability fits your character. The place you live at, the basement of your parents' house, which is basically its own flat, is located on the side of a hill and once you see the carefully cut garden that your parents have all built themselves it becomes clear why you have a passion for doing stuff with your hands too.
Well of course I would like to know how to do everything myself but unfortunately I am not a super handy guy. But since I've been living in a pretty rural area I have been doing some work with trees and stuff like that and that feels great too. It's so nice to look at something you've done with your own hands whether it's leather, wood, or just a freshly mowed garden. It's a sensation more and more people never get to experience these days.
To work for the result, not for profit – that kind of fits to the question Fede gave me to ask you: Where do you think the role of non-profit projects fits within the international skate scene?
Well I would say they have the important role or reminding us that not everything you do in skateboarding necessarily needs to be linked to a brand or a certain product. I think their role now is to remember people on the idealistic side of skateboarding. These projects show that you can do something within skateboarding without having to make money on it. Plus they have an important role for sure on spreading skateboarding everywhere. Idealism might be the foundation skateboarding is built on.
So who do you skate for?
My sponsors are Carhartt, Vans, Muckefuck Wheels, Warriors Skateboards, Savate Socks and Bones Bearings and Indy through the Swiss illumate distribution. I think that's it.
And why shouldn't I cook Pasta in Bouillon?
Well because it has a horrible taste and it looks horrible too! If you want to eat a soup you use bouillon; if you want to eat pasta, you use water and salt. It's that simple! I don't come to your house and fuck around with Rösti, do I? So just leave pasta the way it should be: al dente and with water. Basta.
Layback frontside 180 nosegrind. Photo: Alan Maag.