Isle x SkatePal: Pieces Of Palestine

Video by Jacob Harris, words/interview by Chris Jones and photography by Sam Ashley (don't miss the extended gallery at the bottom of the post!).
For those who are not already aware, SkatePal is a charity that aims to spread the love of skateboarding in Palestine. Since 2013 they have been building skateparks and providing skateboarding lessons to young people across the West Bank. The charity works with local communities to help provide access to new equipment and tools, as local skateboarders currently rely on donations from outside the country. Earlier this year, Isle Skateboards teamed up with SkatePal and arranged one of the first ever skate trips to Palestine. The plan was to run a skate workshop and perform a demo for the kids at SkatePal's park in Asira Al-Shamaliya. Alongside this, we aimed to skate around various cities and towns in the West Bank with some of the local skaters. To help provide a comprehensive insight to the trip, I interviewed the Isle team, cinematographer Jacob Harris, Charlie Davis and Theo Krish from SkatePal and some of the local Palestinian skaters that joined us during our time there. I will let their answers tell the story of our visit to the West Bank…
Chris Jones, nosegrind, Ramallah.
What were your preconceptions of Palestine beforehand and did your ideas change during the course of the trip?
Nick Jensen: To be honest, I didn't know that much other than the scary stories I had seen in the media. So it was a bit nerve wracking at first as I didn't know the place we were going to be in Palestine was not Gaza, it was the West Bank, which is safe. That reassured my girlfriend and me so I went there and it was completely different to how I imagined. I didn't know that Palestinians were as oppressed as they are and I didn't really know how the oppression worked before I witnessed it and heard the locals' stories. So rather than having it given to you by the media, when you actually meet people and hear about what they've had to go through it makes you really understand how tough it is. I also found out how lovely and friendly everyone there is and how they've got a really positive attitude towards doing things and keep going forward to do it – that just shines through so much.
Where did you visit in the West Bank and what were the differences in the places you visited?
Nick: We went to Ramallah, Bethlehem, Nablus and Asira Al-Shamaliya. Nablus and Ramallah were quite similar, they were both really busy market kind of cities, so there was a lot of stuff going on. It all seemed kind of market-led so it felt like I was in a giant Portobello Market with lots of different things going on… They were really vibrant. Bethlehem seemed to have some sort of magical power to it because it has so much history… Some of the architecture is breathtaking. Asira is a really remote mountainous place with people riding donkeys; it's more rural and suburban.
Tom Knox: Although Nablus and Ramallah were both very busy, the attitude towards us from the locals seemed different. In Nablus they didn't seem used to seeing skaters I guess… They might not see as many foreigners travelling there too much. In Bethlehem there seemed to be so many more tourists and Christians travelling there on their pilgrimage to the church. Asira was more in the countryside so it was a lot quieter.
Casper Brooker, 50-50 ollie over, Bethlehem.
What were the spots like?
Tom: The spots were amazing. When I was going there I thought there wouldn't be that much and we would just try and skate whatever we could, but it turned out that the spots were better than some other skate trips I've been on. I'm sure if we would have stayed there for longer we would've found more stuff to skate. Especially in Ramallah, there seemed to be loads of spots there.
What memories stand out from the trip?
Nick: When we were in that bar in Bethlehem we were with a Palestinian guy called Ala and he was telling us so many fascinating stories about things you take for granted… Like the fact you can't use PayPal to pay for things out there. It was interesting to learn that if you wanted to get a skateboard in Palestine you would have to either know a contact in Jerusalem or go through to Jordan to get it. Just these little everyday things we have access to and take for granted that they don't… Instead they have to come up with inventive ways to get stuff. Like when they built the wall people built tunnels under it… Like families were divided literally… Like one person's house was on one side and the other person's on the other. So just learning all about that stuff, which you wouldn't necessary learn in some news resources, that was very interesting. Also, another memory, which was amazing, was Sylvain hippie jumping a donkey.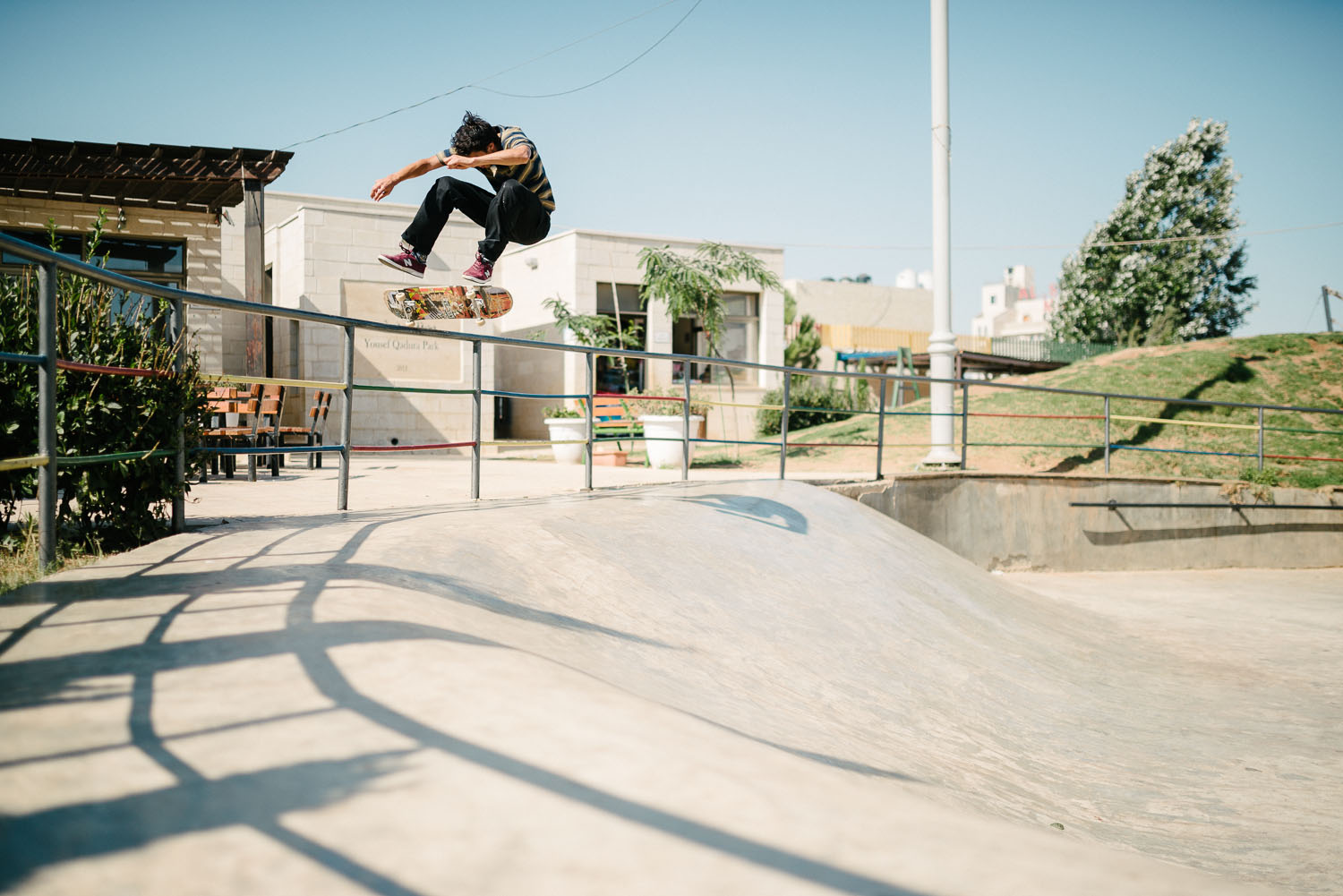 Tom Knox Heelflip, Ramallah.
What is your favourite clip from the trip?
Jacob Harris: Probably one of my favourite clips is some footage of Sylvain skating a flat bar at the park in Asira. He was just messing around going really slowly doing 50-50 variations but I really like it because Asira felt like a bit of a focal point for the trip; we were going there to see what SkatePal had been up to. It felt really warm and nice and it was a really fun place to be. We were around all the kids who were really excited by skateboarding and that clip sort of embodies how we spent our time in that place. It was kind of billed as a demo but it was just a bunch of us skating this park on top of a hill with the kids where you can see for miles around. The park is still quite a special thing in this small village where obviously quite a few things have changed since the skatepark has been built there. This is perhaps seen in the fact that girls are able to come up and skate with the boys and in social terms for that village it has changed things in quite a nice way.
Could you say a little about the film formats you used for the trip and what your reasons were for using these?
Jacob: I used a VX1000 because that's my favourite way to capture skateboarding. I also used 16mm on a Bolex and sound recordings on a Zoom because I think that it's a really nice way to try and convey an atmosphere from a place… 16mm just captures things in its own significant way that, if not delivers you exactly to the place, then it certainly captures an atmosphere. The places we visited would be a mixture of either really busy and hectic or slow and quiet. Always there would be so much to look at and sounds dominated the cities: the call to prayer, car horns, 'what's your name?' and 'welcome welcome'. My approach is to try to give a sort of experience that claims less to be reality but hopefully transmits something authentic through the mishmash of things you end up recording. I conducted a few interviews but I don't really like to make things didactic in that way, so will probably let things flow out through a couple of phrases.
Sylvain Tognelli, backside noseblunt, Bethlehem.
This was the first time a skate company has done a trip to the West Bank, what kind of reception did the Isle team get?
Sylvain Tognelli: Something that I really enjoyed was that sometimes when you visit some countries people can be like 'the pro skaters are in town', which leads to the kids just sitting down and watching you… But I feel like the whole time we were there the skaters just wanted to skate with us and also show us how they skate. I hate the idea of having a unilateral relation with the skaters… Like for us just to come and show them things… I prefer the idea of giving as much as you take. People were happy to see us, have a good time skating, to show us their country and ask us questions about our countries. We were all on the same level so it wasn't that we are the pro skaters in town kind of feeling.
What do you think about the work of SkatePal and its impact for the people in the West Bank? 
Tom: The work they're doing is amazing… The skatepark they built is really great and skateboarding is just a good activity for kids… It seemed like all the kids were enjoying it. They have lessons going on all the time there, which is good and they have free boards for kids to use if they don't have one and if they want to buy them they are trying to have cheap set-ups to sell. It just seems like a really good thing to be doing and they are not trying to push it on anyone, they're not trying to say 'this is our culture you should accept it', they just have a skatepark and if the kids want to come and do that activity they can… Just like playing football or whatever. It was really nice the way they are doing it.
Casper Brooker, kickflip, Ramallah.
Why do you think it's useful for skate teams to visit Palestine?
SkatePal: There's several reasons why it's great for teams to visit Palestine: the main thing is that it helps the local skaters feel connected to the wider skate community. The skate scene in Palestine is quite isolated from the rest of the world; there aren't any skate shops, it's difficult to import equipment, there aren't any demos from visiting pro skaters and it's quite hard for people to travel. So the scene is confined to a few skateparks, which are great, but you need other things to help keep a scene alive. It's great to give local skaters the chance to watch and skate with professionals… We want to give them that same buzz that other kids around the world get when they see their favourite skater in real life.
If you live in London for instance, you have this option all the time, just pop down to Southbank on a Saturday or go to a demo at your local park. Palestinian skaters only get to experience pro teams through YouTube. It also helps to show the international (skate) community that it's a fun and safe place to visit. Lots of big skate teams visit Israel, but hardly any come to the West Bank. We want people to know that the option is there, it's just a bus ride away, there are loads of spots that look really sick in photos, and most of them have never been skated before! Outside of skateboarding, trips like this boost tourism in the West Bank and help to raise awareness of Palestine and the situation around the world. Through these trips we can help people understand what life is like on the other side of the wall.
Majd Ramadan (18 year old skater from Ramallah): I think that skateboarding is a positive tool for kids in Palestine.
Abdullah Milhem (17 year old skater from Qalqilya): For the skate scene it makes people more interested in skateboarding after seeing the bangers you guys were doing; it proves that skating is not just a game but rather a life style.
What were people's reactions to the Isle team visiting?
SkatePal: Everyone was stoked for sure! It was obviously a bigger deal for the slightly older skaters like Abdullah Milhem and Majd Ramadan, as they were able to travel with us to different towns and see the guys shred. The older guys follow the international skate scene a bit closer than the kids who are just starting out, so for them it was a bigger deal to have pro skaters visiting. Majd said that skating with the Isle guys at the plaza (in Ramallah) was one of the best sessions of his life in an Instagram post! I think once the video drops, the skaters that didn't manage to see you guys skate in person are going to be amazed!
Nick Jensen, backside nosegrind revert, Nablus.
How was it having the Isle team visit the West Bank?
Majd: I was so happy to have a team like the Isle crew here, it was amazing. Also, I have never seen anyone skating like them… I mean I'm always watching videos online but it's so different seeing someone skating in front of you.
Abdullah: Having you guys was amazing and inspiring for skaters in Palestine. You guys inspired us to keep skating in order to be like you guys one day. We had a really fun session; I saw a lot of things that blew my mind and it was really fun to hang out with them. Coming here gives us power and motivation… It proves that we are not alone and it shows the world how skating is important to Palestinians because we are denied so many rights. It gives us a feeling of freedom and when you guys come here people start to understand that.
Fahmi Sawalma (14 year old skater from Asira): It was very exciting to see a professional team in our village. I asked them to teach me something. I was very happy!
Would you like to see more teams visit in the future?
Majd: It would be amazing for us Palestinians to have more teams visit here in Palestine.
Do you have any plans on going back?
Tom: I would love to go back… I would really enjoy going out there for a build at some point if the opportunity came up. I was also a bit hurt so I didn't get to skate all of the spots and there were so many more spots to go to. I felt near the end of the week I was really starting to understand and learn a lot more so I'd like to go back and see how it has developed since. Sylvain: No plans at the moment, but it would be really cool to go back in a few years and do the same thing again, meeting the same people and seeing how everything went… To go back there and see how the kids have developed and how skateboarding has developed. I think it would put things in perspective a bit more. Jacob: If the opportunity came up, I would definitely like to go back.
Nick: Yeah I do definitely. Going through customs on the way back they personally try and make you feel kind of guilty for going there and this has inspired me to want to go back even more. The lack of open mindedness makes me think 'fuck man you need to go there and hang out with people and have fun'.
Sylvain, 50-50, Ramallah.
What recommendations/advice do you have for any skate teams that plan on visiting?
Sylvain: I don't know if it's possible, but my recommendation would be to forget any preconceptions before going there. Just try to meet people and see them as human beings rather than Palestinian or Israeli and just enjoy it, going as you would go anywhere.
SkatePal: Do it! It's a fun place: friendly people, good spots, interesting history and great food! Plus it's really cheap.
What are SkatePal's future plans?
SkatePal: In 2017 we'll have more volunteers teaching from March to October. We're trying to get more female skaters involved – we'd love to reach a stage where we have an even split between male and female volunteers. We are currently planning our next skatepark project and hope to start it next September. We're trying to promote Palestine as a skate destination to more teams and we'd like to have the first female skate team to visit the country. The general long-term goals are to find a way to get skate equipment into the country – so that the scene can become self-sustainable and eventually won't need the input of a foreign charity like us. We also want to try and find a way to pay ourselves, haha!
If you'd like to volunteer, make a donation or are interested in doing a trip, head to: www.skatepal.co.uk or contact info@skatepal.co.uk. Also keep an eye out for the new Isle x SkatePal Curiosities decks. 100% of the profits go to SkatePal!
If you're interested in learning more about the skate scene check out the short documentary: Epicly Palestine'd.